Upcoming / Current Art Exhibition
Tanah Airku Merdeka
Date: 16 Aug – 17 Sep 2023
Time: 10am – 5pm
Venue: KPJ HQ, Menara 238, Jalan Tun Razak, Kuala Lumpur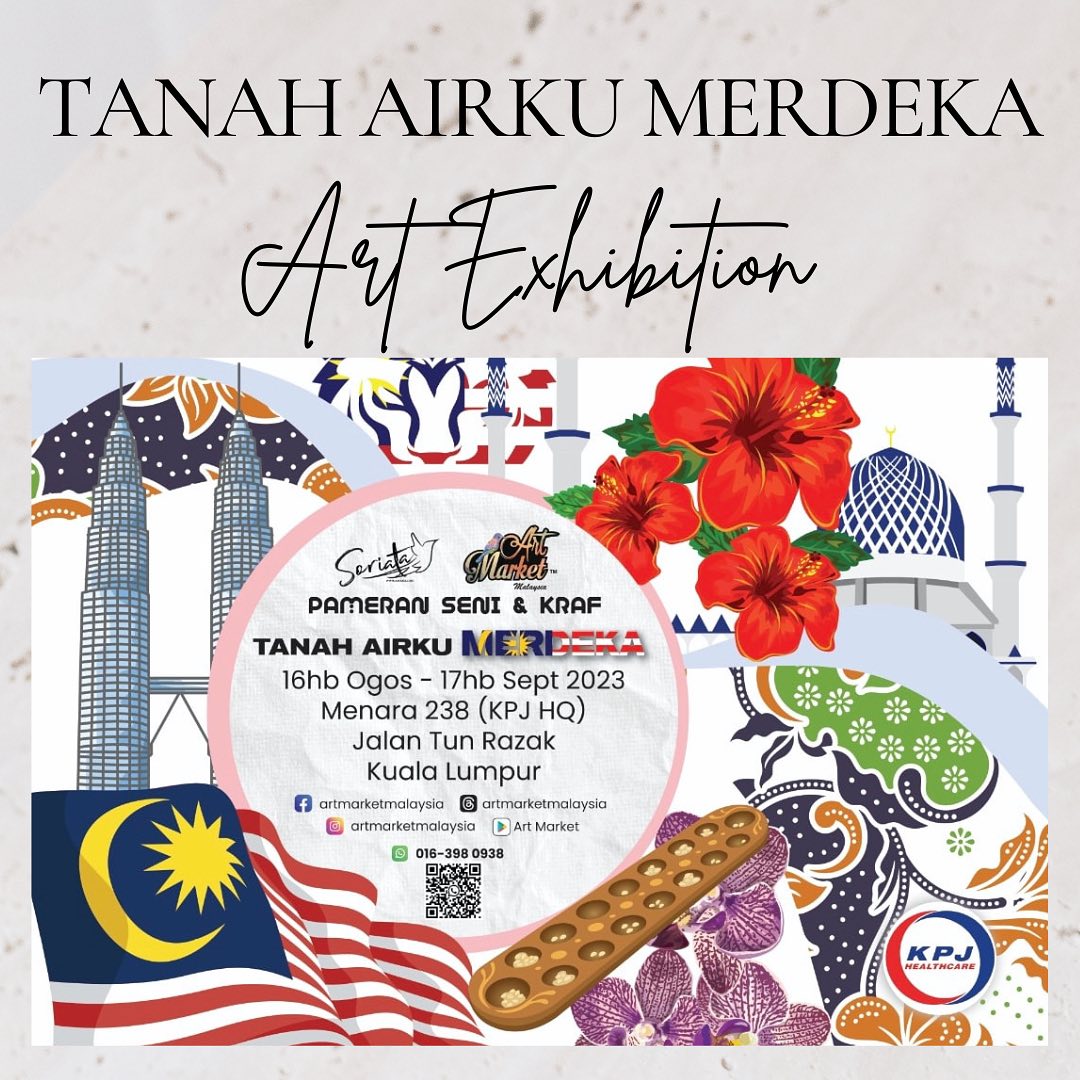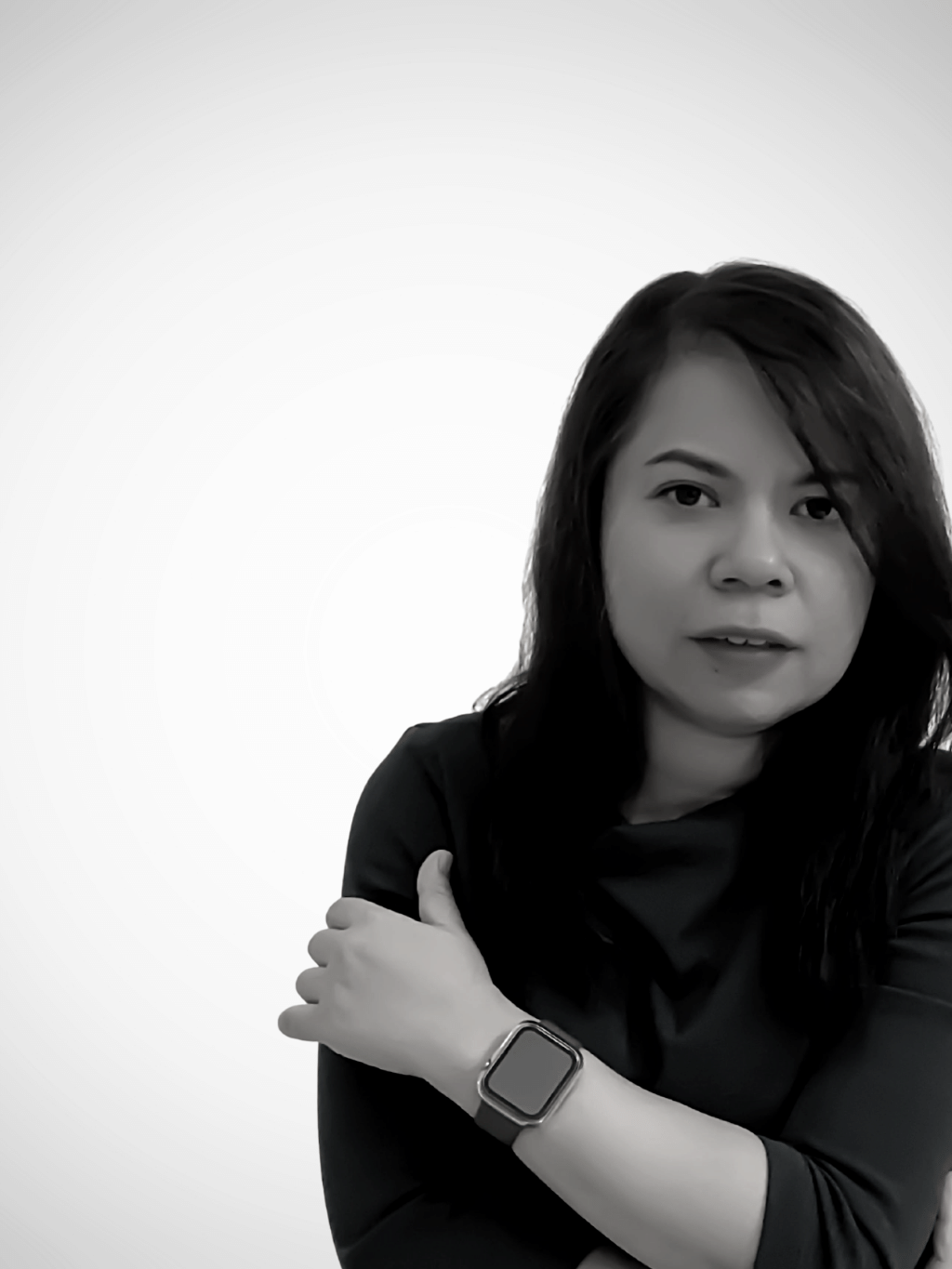 LINA ALI
Lina Ali is an Entrepreneur turned Artist who finally pursued her dream after more than 20 years of battling her own self-limiting beliefs. To date, she has created artworks for many art lovers, including international corporations, self-made millionaires and politicians. She is also a published Author and Illustrator of a children's storybook, an NFT artist, and has been featured in several interviews and publications.
Born in 1979 in Malaysia, Lina Ali expresses her love for arts and creativity through oil on canvas and occasionally works with mediums such as acrylics and charcoal as well as digital arts. Each of her painting takes you to a deep emotional level and manifest an unspoken sensual beauty, where fantasy and reality become one. Ali employs colours based on her intimate feelings of each individual artwork, inside of which every soft brushstroke or element blends with each other as if they are an extension of one another. Through each carefully sized artwork, Ali brings you along a journey with the stories she tells in them.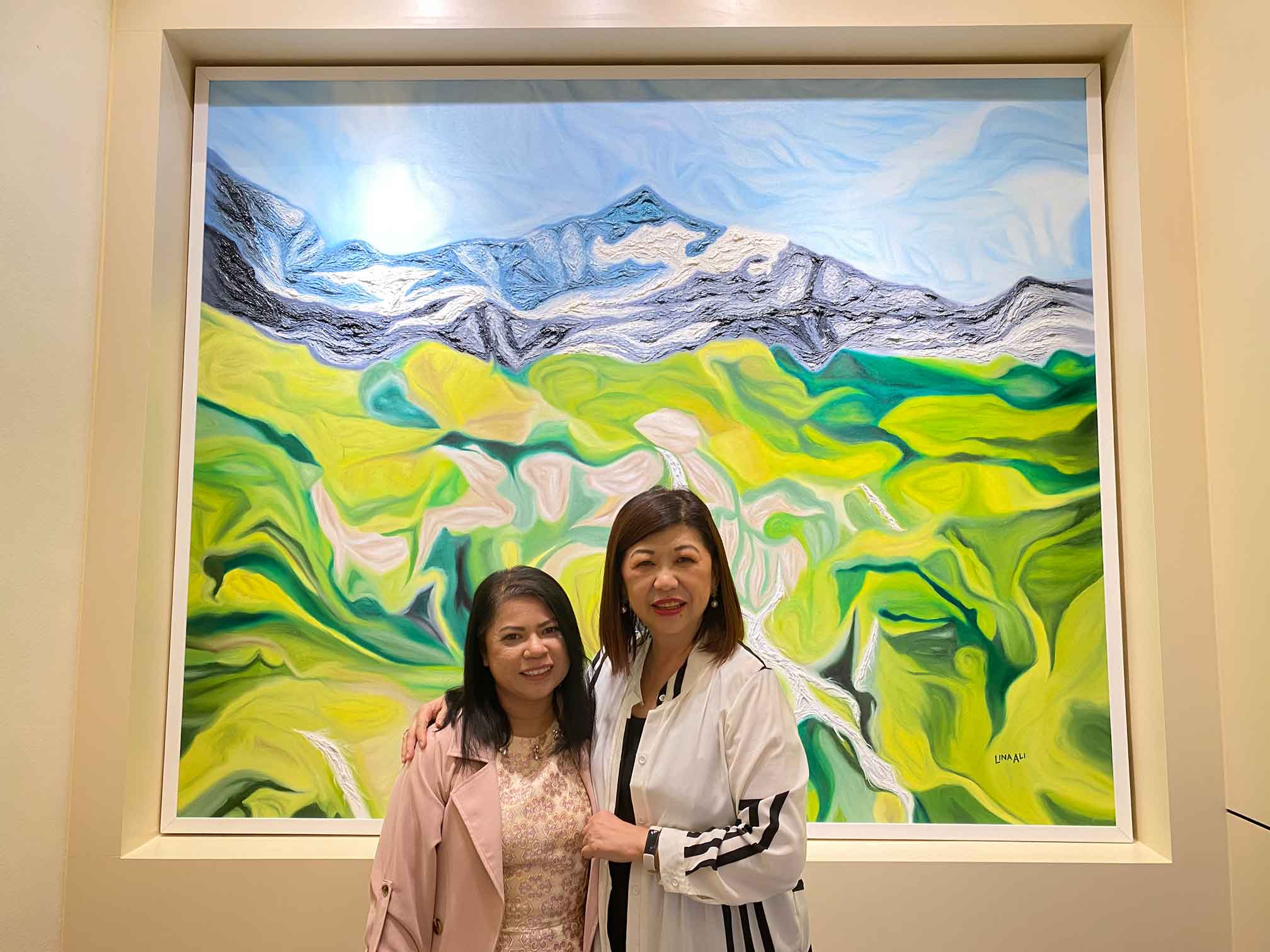 Photo of Ruby SK Siah, Managing Director of Beaubelle with Lina Ali, and her painting "Heart Of The Magical Water" which is displayed in Beaubelle's Flagship Salon.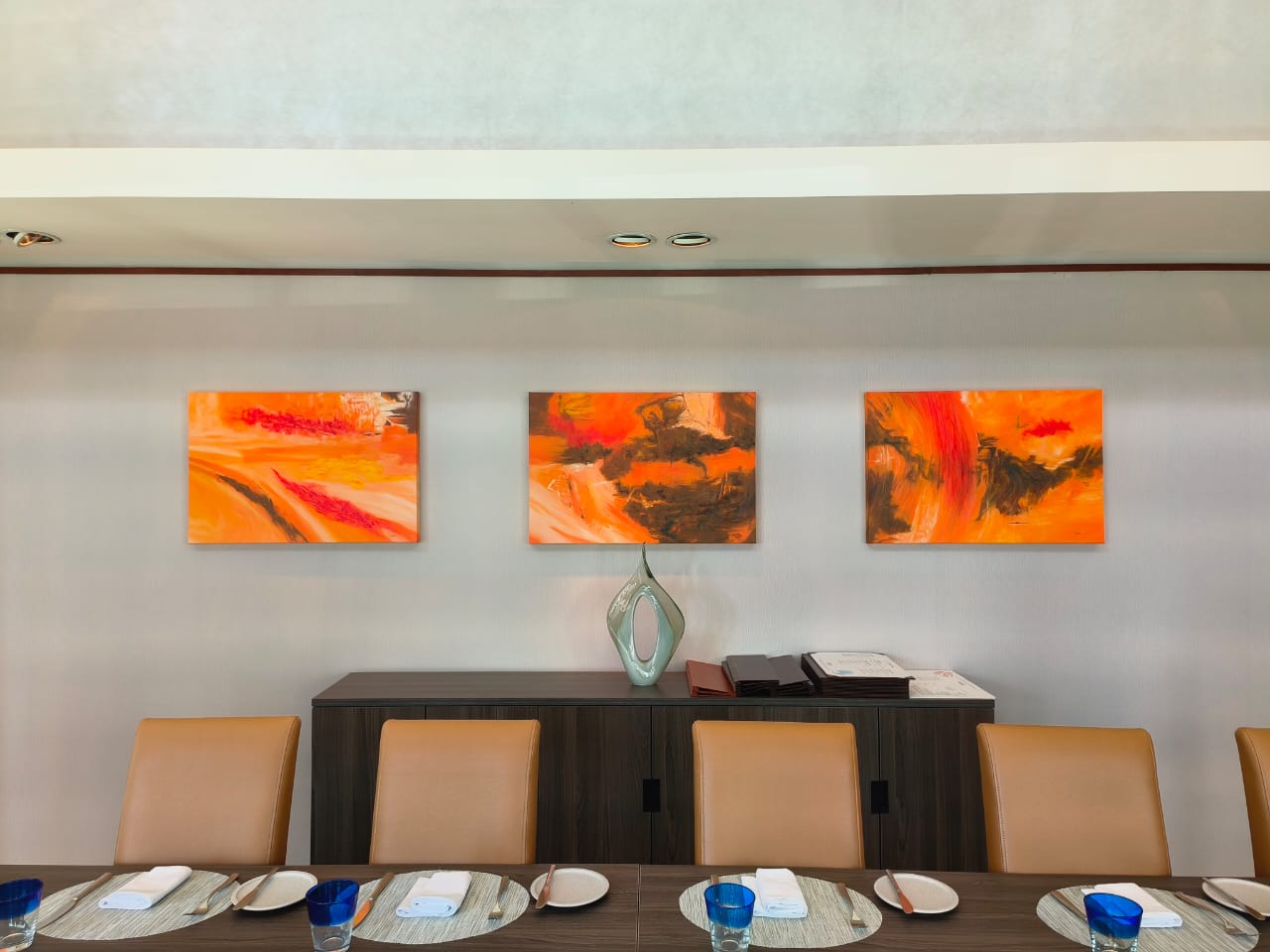 Photo of Lina Ali's triptych paintings titled "Fire and Flames" which are displayed at Bara on Six (Private Room), Traders Hotel, Kuala Lumpur.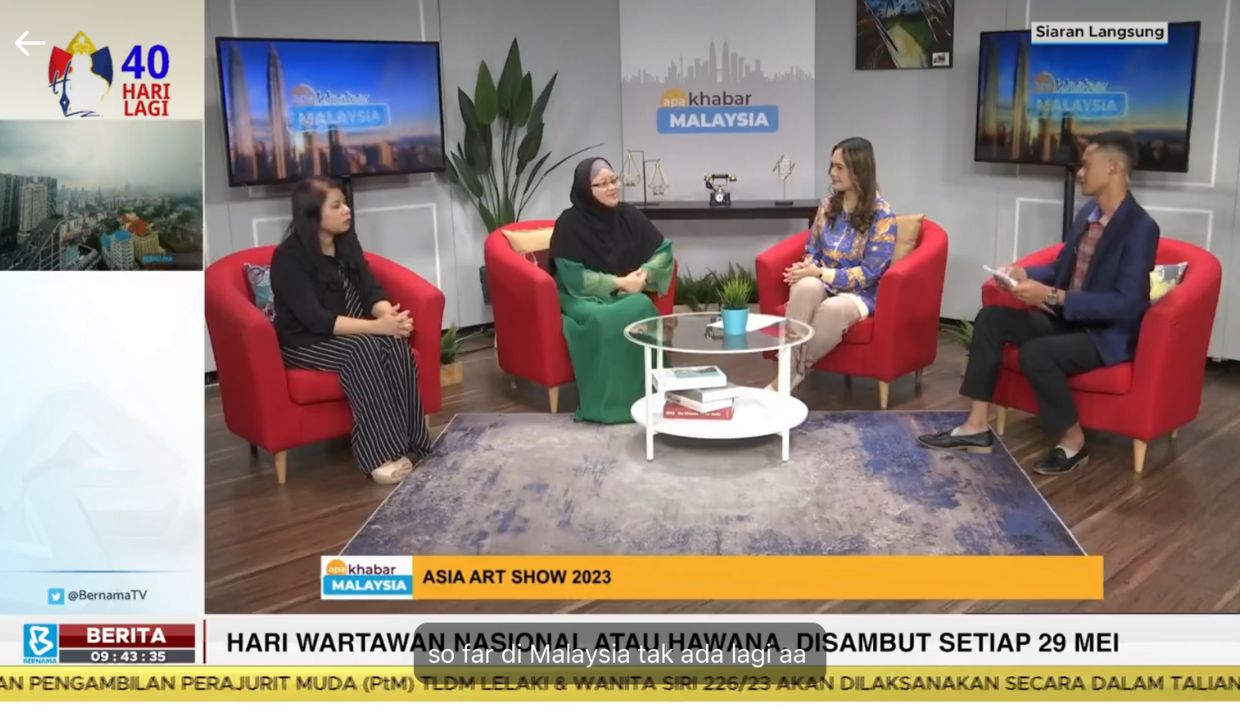 Live interview session at Bernama TV about the Asia Art Show Sydney 2023 where Lina Ali shares her thoughts and vission for the arts industry from an artist point of view.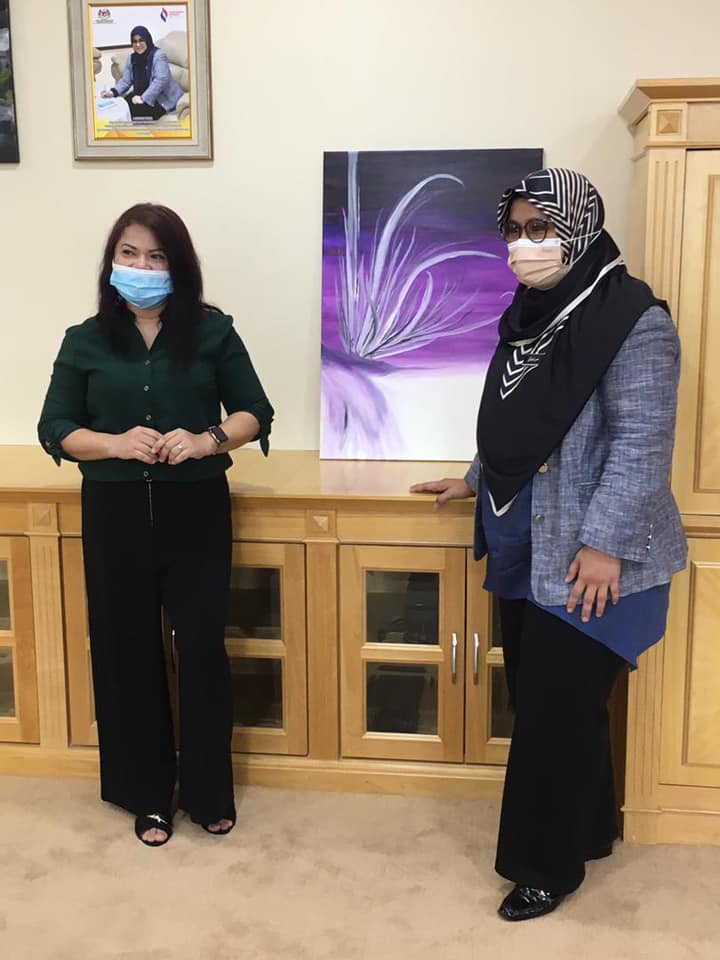 Photo of YB Datuk Mas Ermieyati Samsudin, Deputy Minister in the Prime Minister's Department in charge of Parliament and Law with Lina Ali, and her painting "Graceful Strength".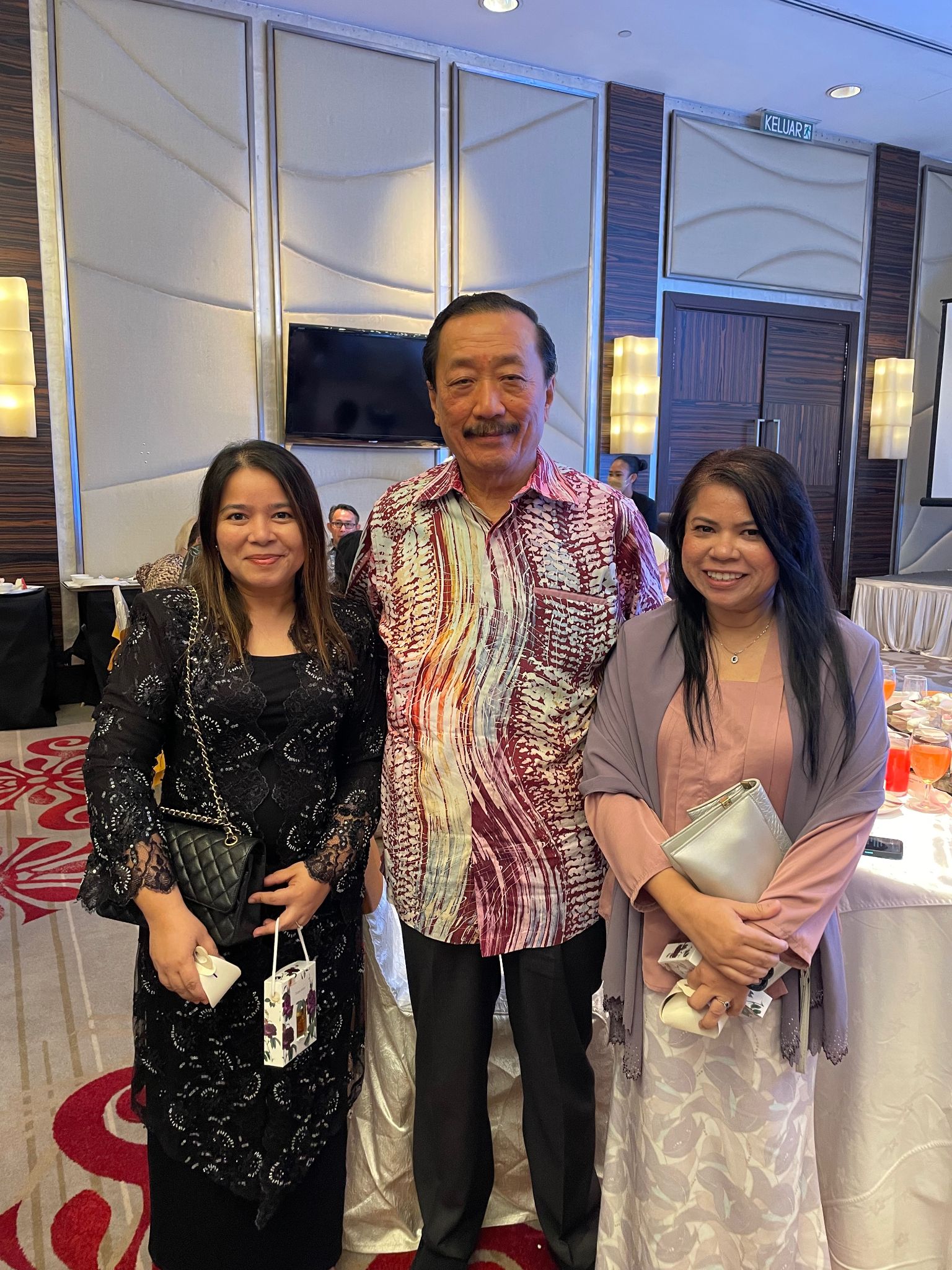 Photo of Tan Sri Vincent Tan, founder of Berjaya Corporation Bhd (BCorp) with Lina Ali.
Photo of YAB Dato' Sri Haji Wan Rosdy Bin Wan Ismail, Menteri Besar Pahang with Lina Ali.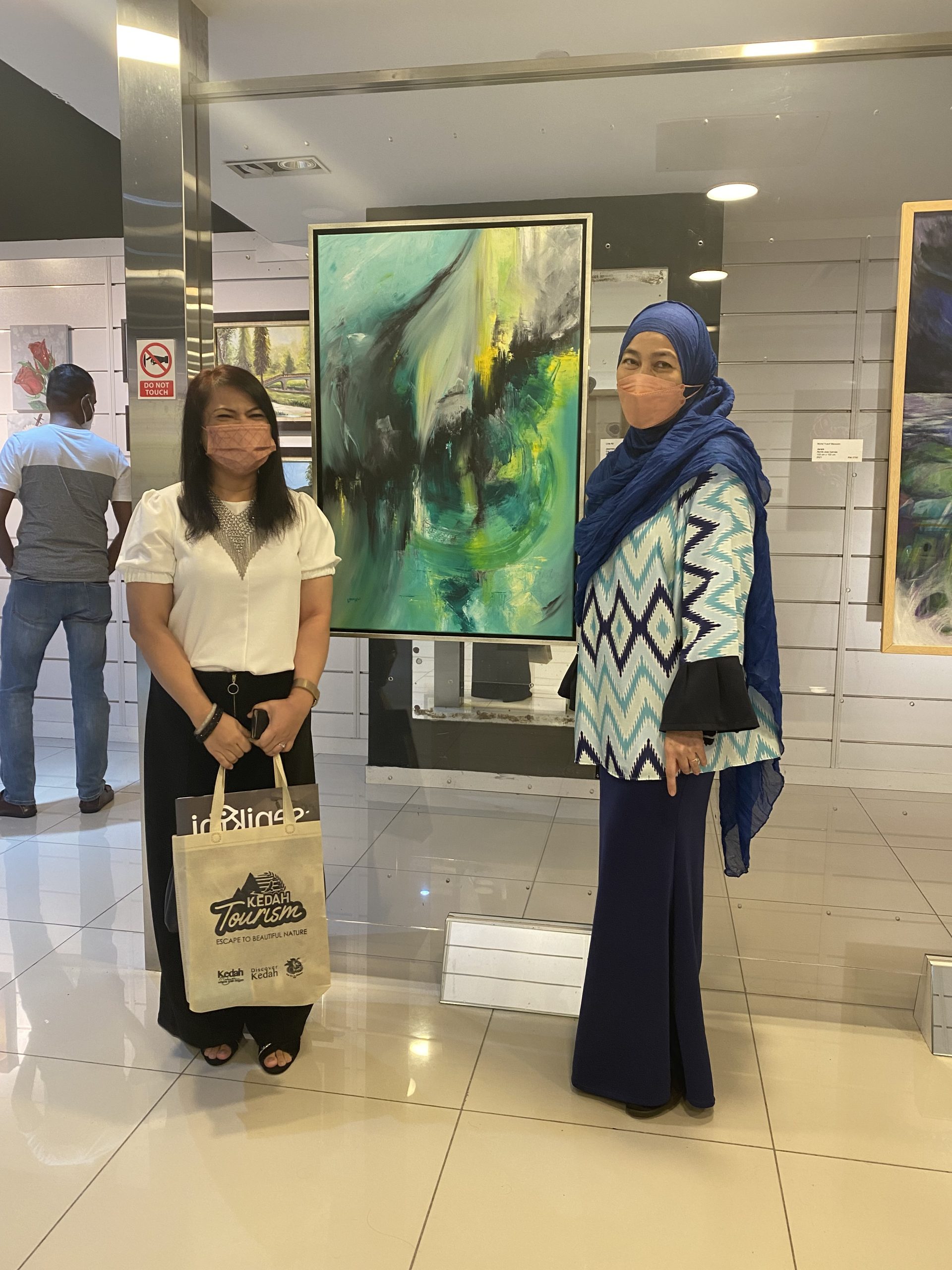 Photo of Puan Zanita Anuar, Director of Collections Conservation and Exhibitions at National Art Gallery Malaysia with Lina Ali, and her painting "Journey" at the Rentas 360 Art Exhibition launch, Kuala Lumpur.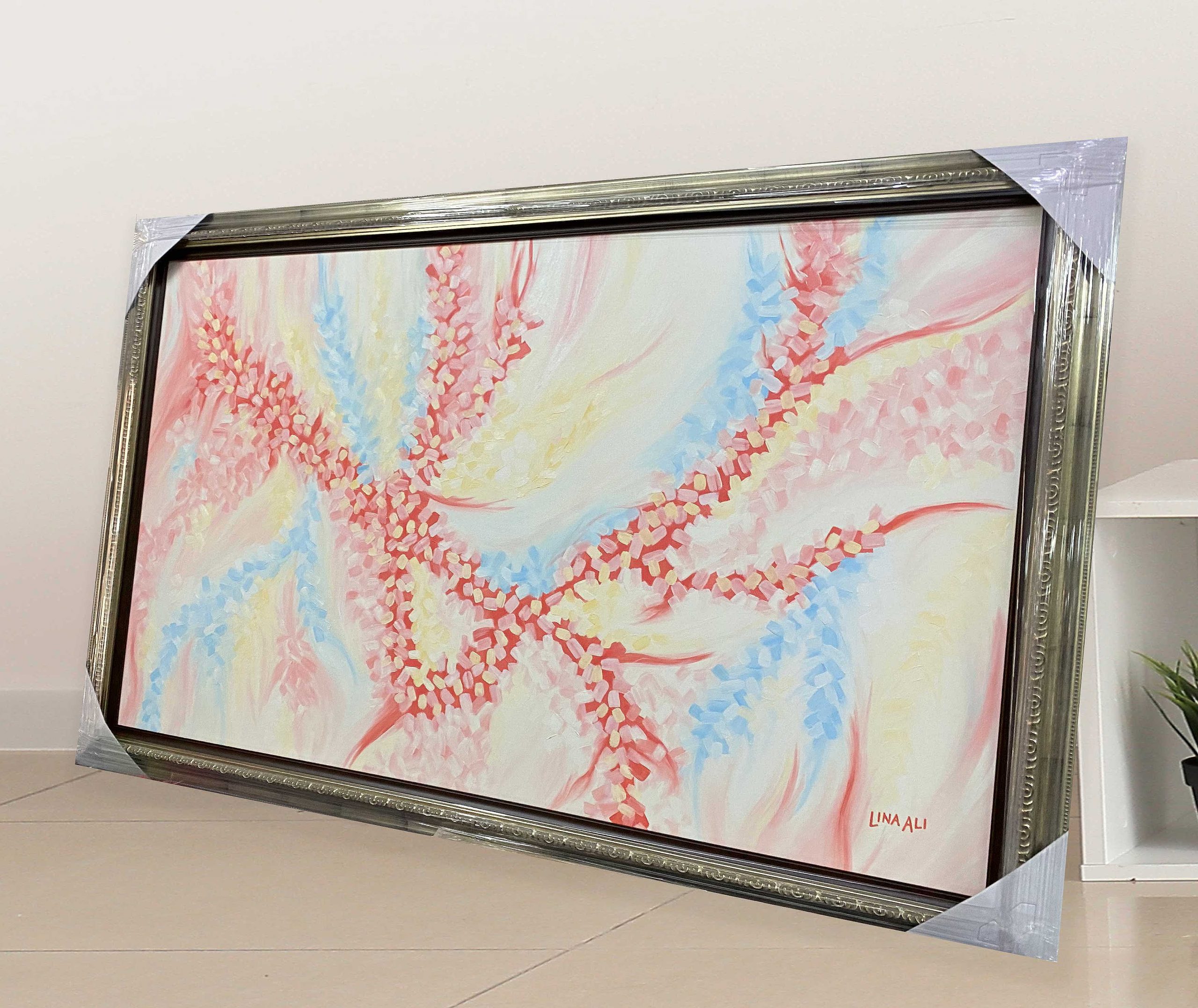 Photo of the painting "Loved By All" made exclusively for Kebawah Duli Yang Maha Mulia Seri Paduka Baginda Raja Permaisuri Agong Tunku Hajah Azizah Aminah Maimunah Iskandariah Binti Almarhum AlMutawakkil Alallah Sultan Iskandar Al-Haj.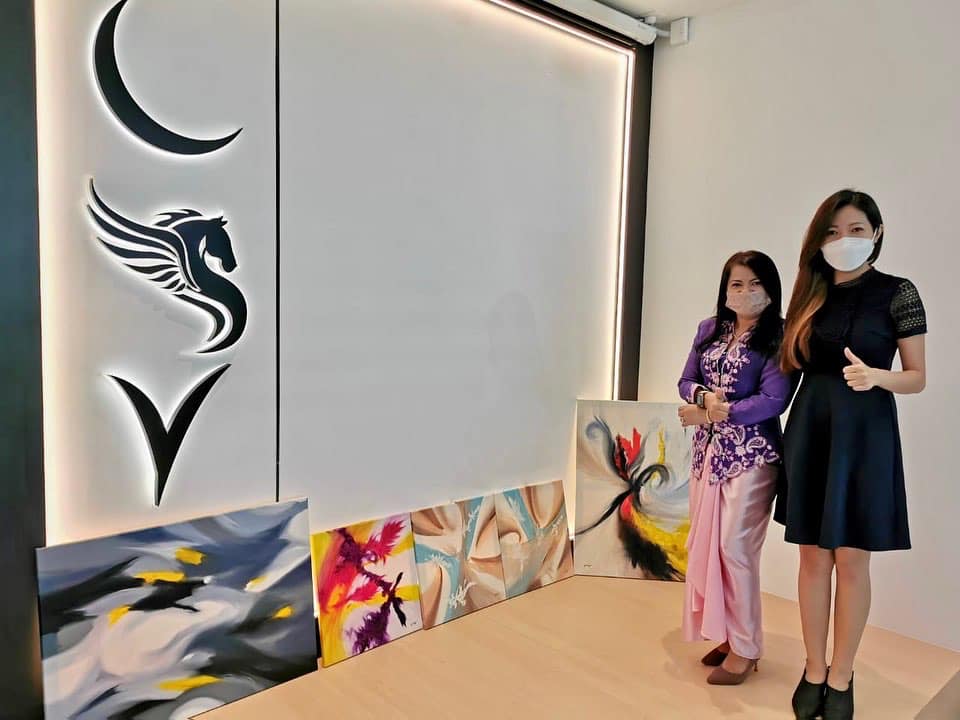 Photo of Shervy Liew, Managing Director of LSV Property Group with Lina Ali, and her paintings at LSV's office in Cyberjaya.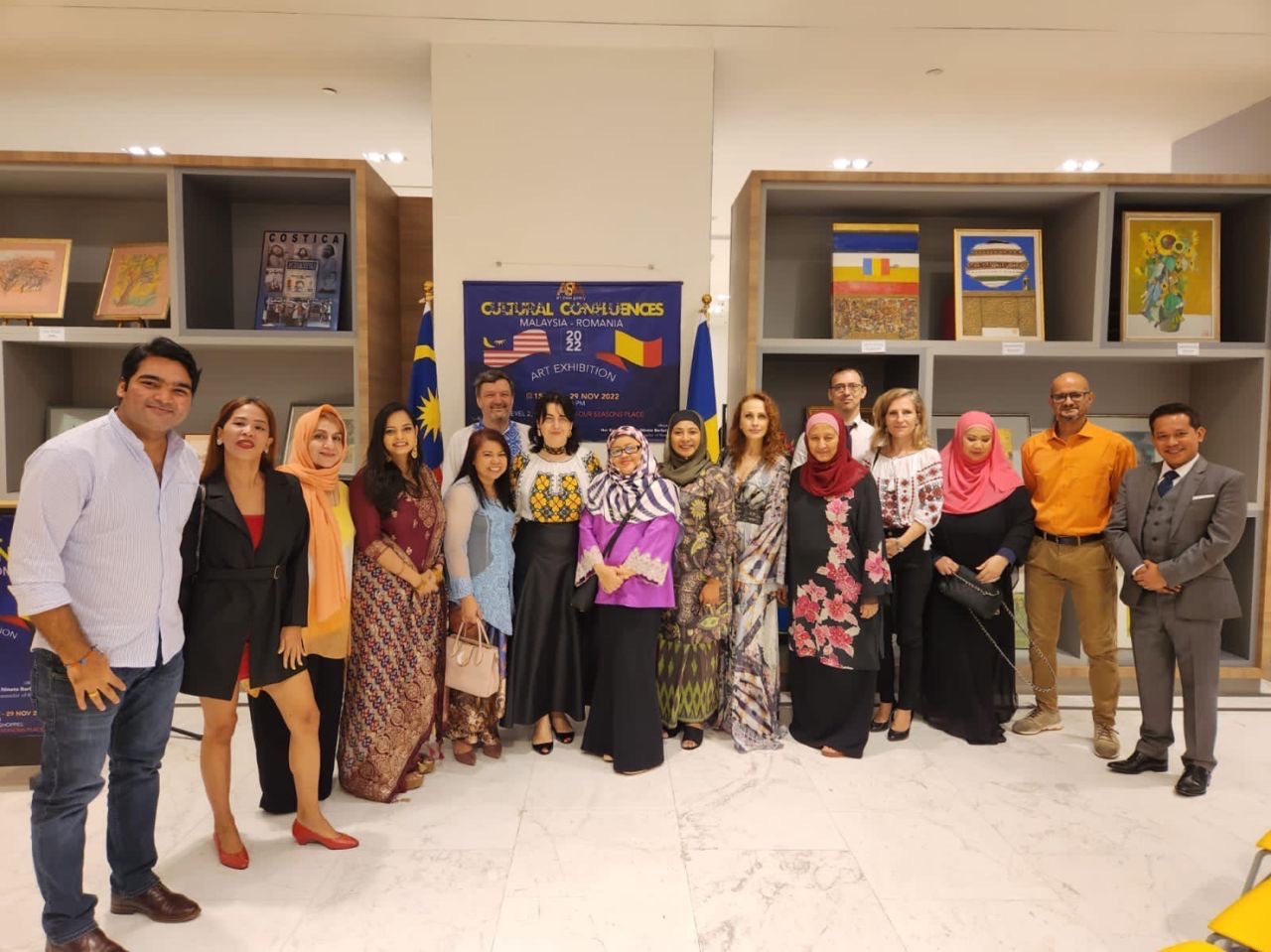 Group photo of Her Excellency Nineta Bărbulescu, Ambassador of Romania to Malaysia and Brunei with Lina Ali, at the Malaysia-Romania 'Cultural Confluences' art exhibition, Kuala Lumpur.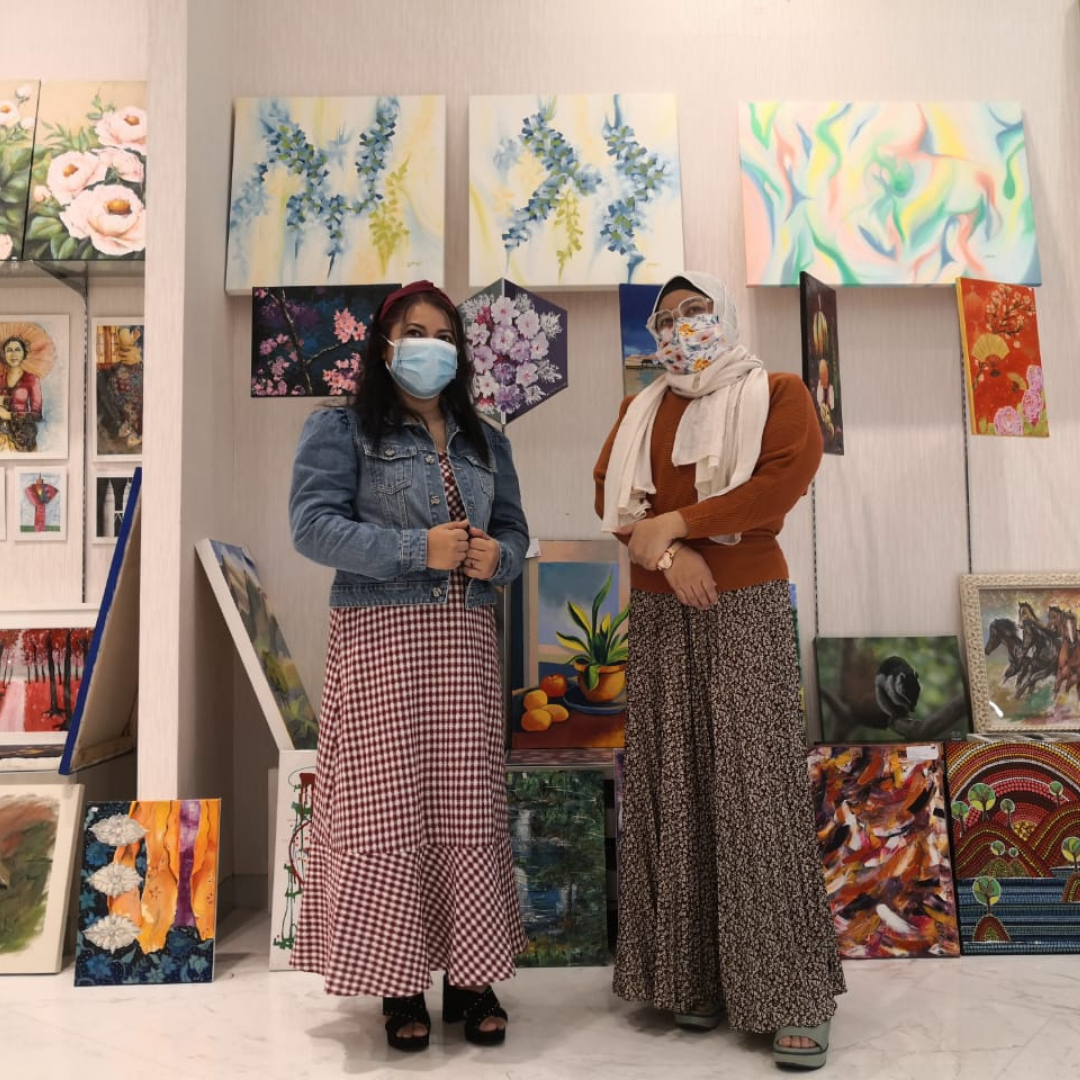 Photo of Rita Hatta, founder of Art Market Malaysia with Lina Ali, and her paintings at the Four Seasons, Kuala Lumpur.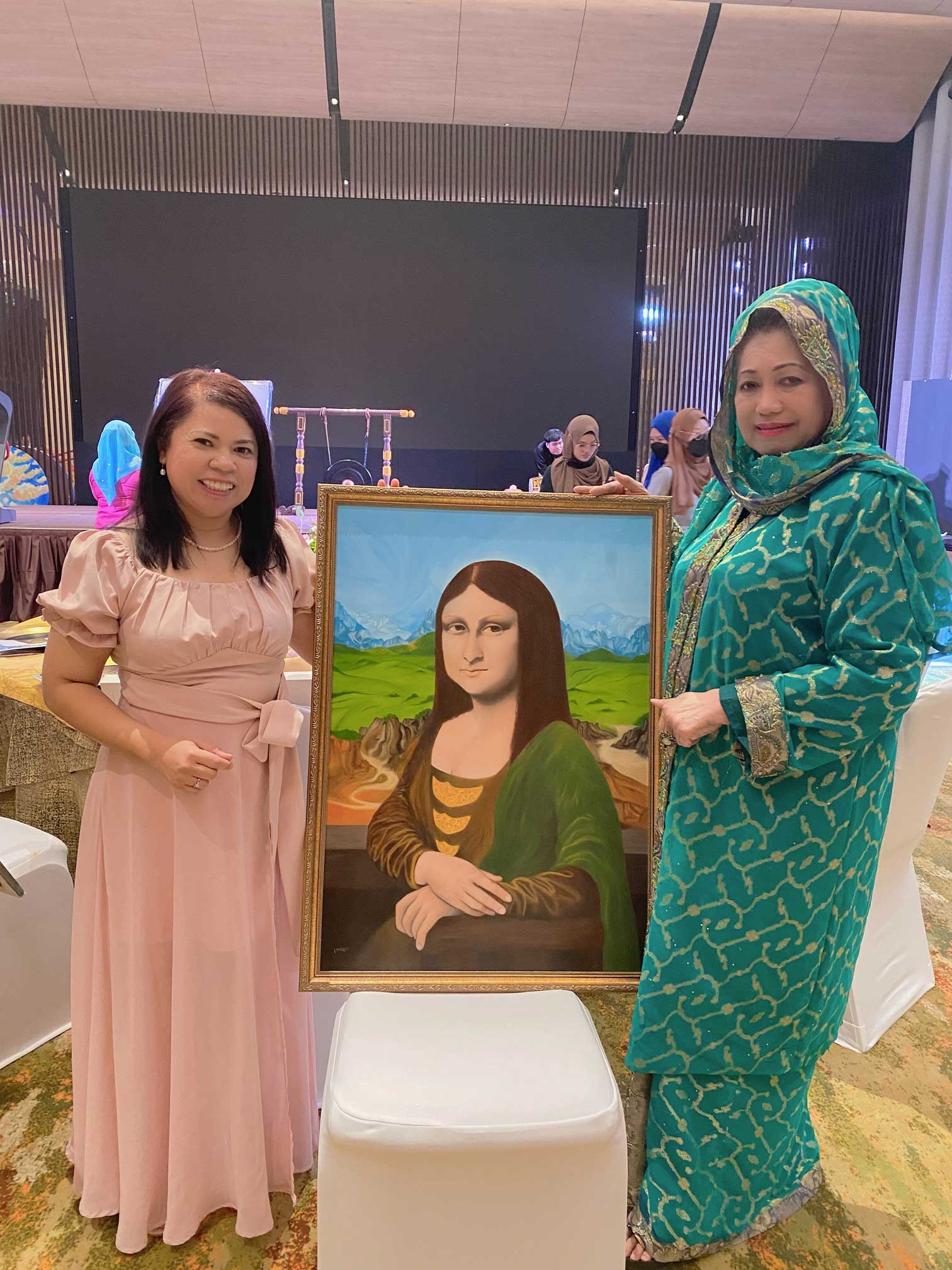 Photo of YM Datuk Raja Ropiaah Raja Abdullah, former Malaysian Dewan Rayat Senator with Lina Ali, and her painting "Mana Lina" at the Asia Art Show charity dinner, Kuala Lumpur.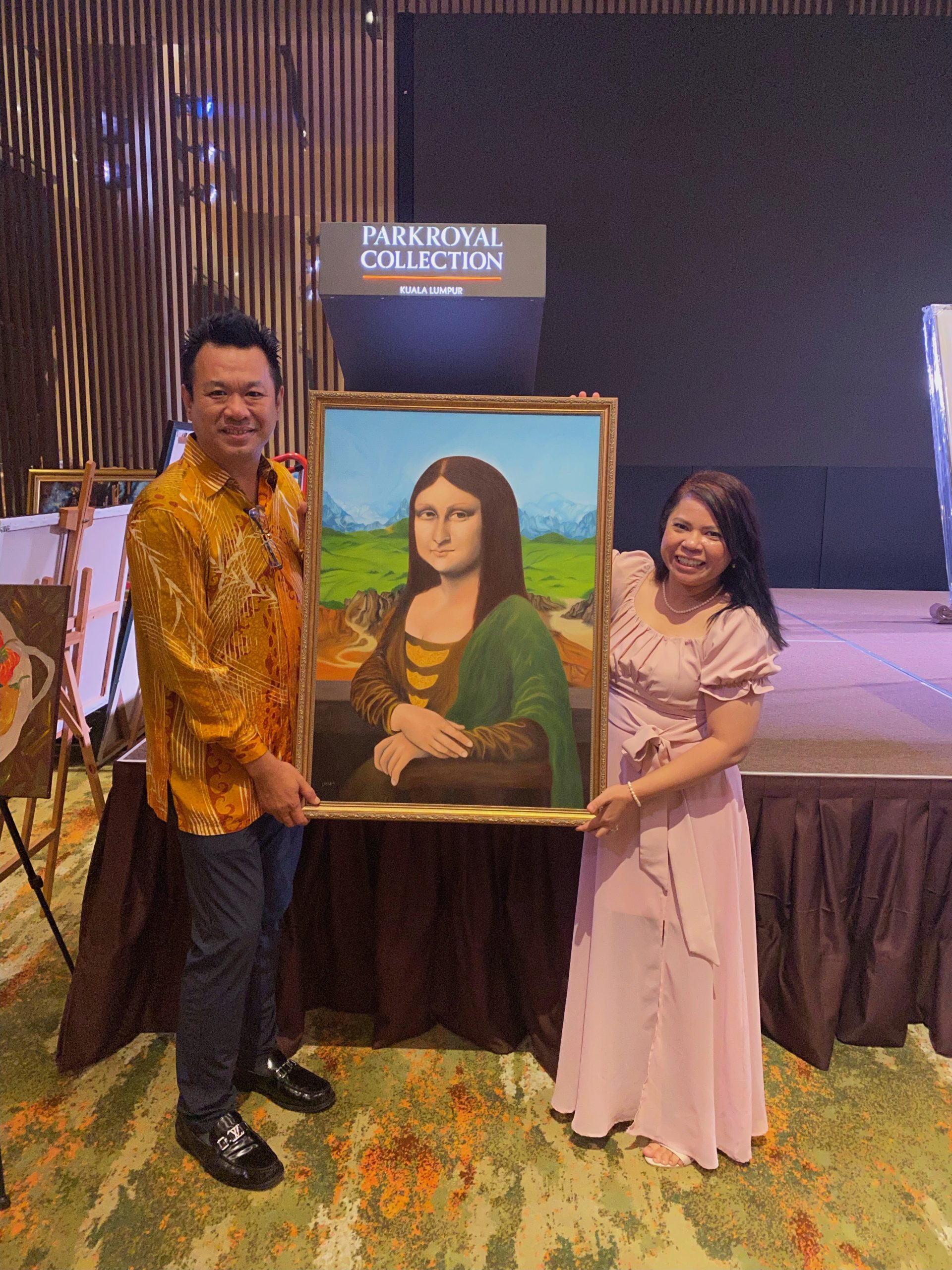 Photo of YM Dato' Paduka Seri Hasnizal Hj Hassan with Lina Ali, and her painting "Mana Lina" at the Asia Art Show charity dinner, Kuala Lumpur.
Photo of YB Datuk Aaron Ago anak Dagang, Unity Minister with Lina Ali, in the Radio Televisyen Malaysia (RTM) news coverage of the Unity Art Exhibition in Kuala Lumpur.
Photo of YB. Dato' Sri Hajah Shahaniza binti Shamsuddin, Pahang State Executive Council with Lina Ali, and her painting "Bloom".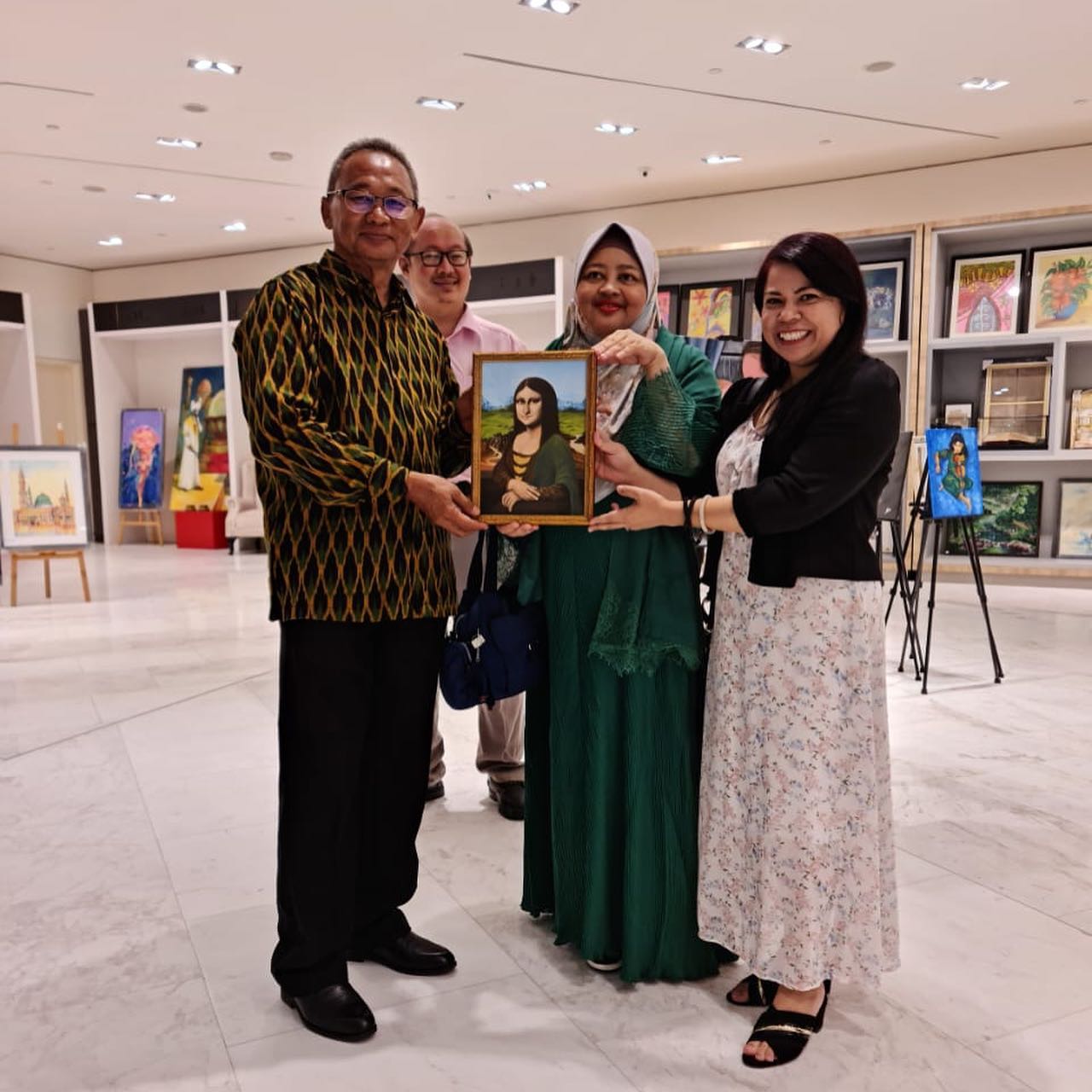 Photo of YB Senator Dato Dr Ahmad Azam Hamzah, Member of the National Assembly with Lina Ali, and her painting at the Malaysian Expatriate Cultural Bazaar in Kuala Lumpur.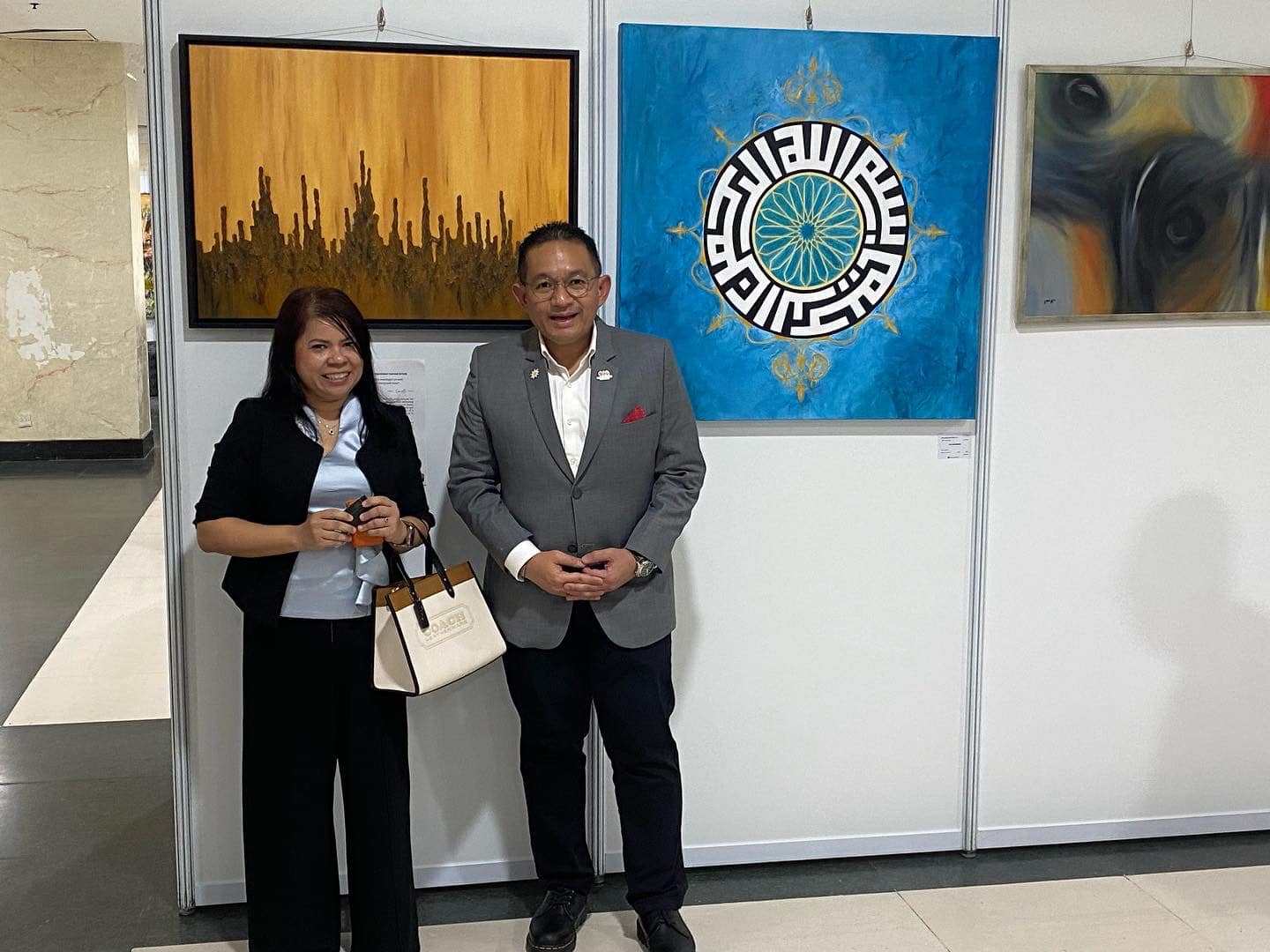 Photo of Dato' Sri Dr. Irmohizam Ibrahim, Group Managing Director, World Trade Centre Kuala Lumpur with Lina Ali, and her paintings at the Affordable Art Exhibition launch in Kuala Lumpur.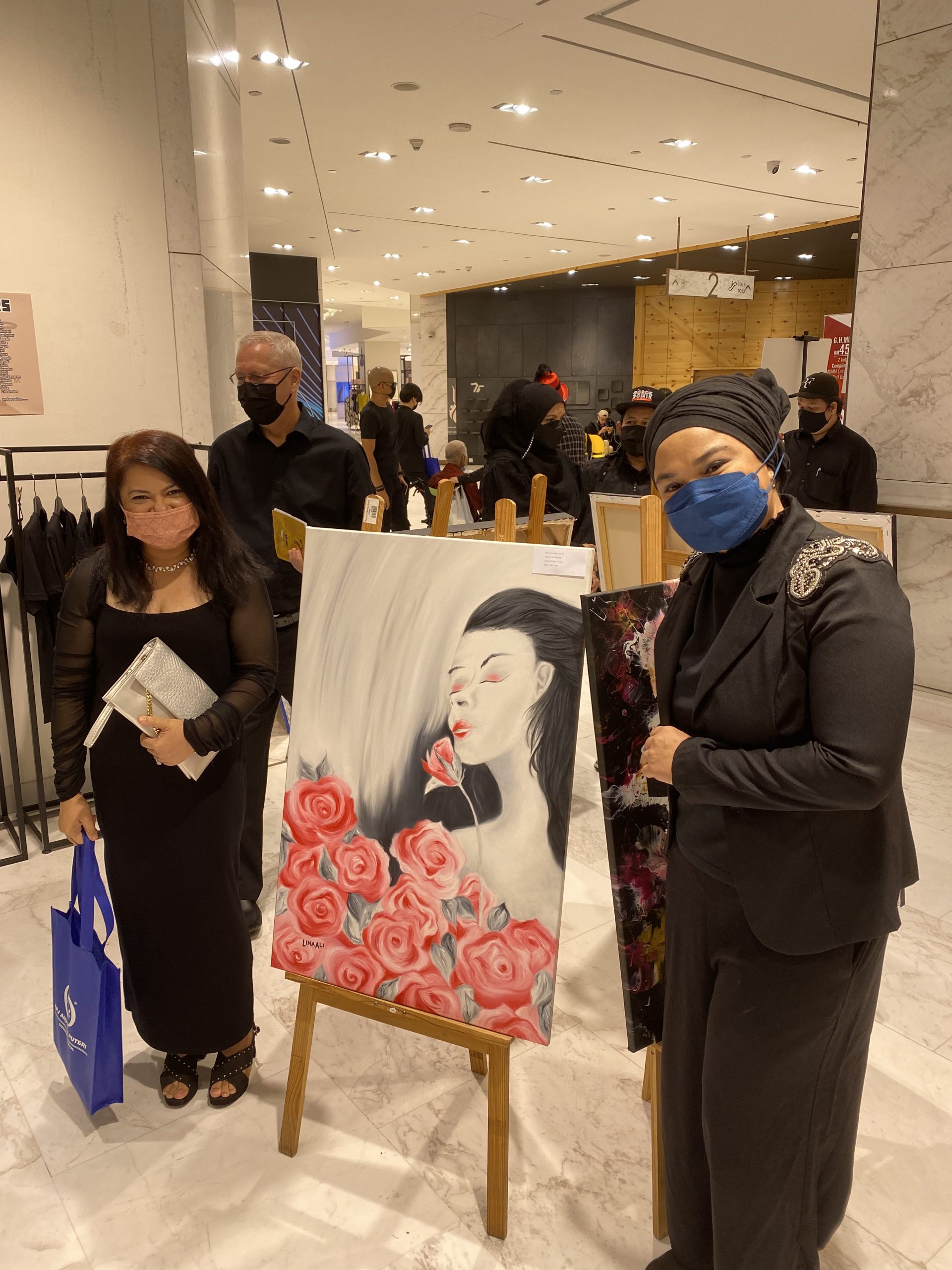 Photo of Kartini Ariffin, TV host, actress and entrepreneur with Lina Ali, and her painting "In Her Moment" at the Pandora Art Exhibition launch, Kuala Lumpur.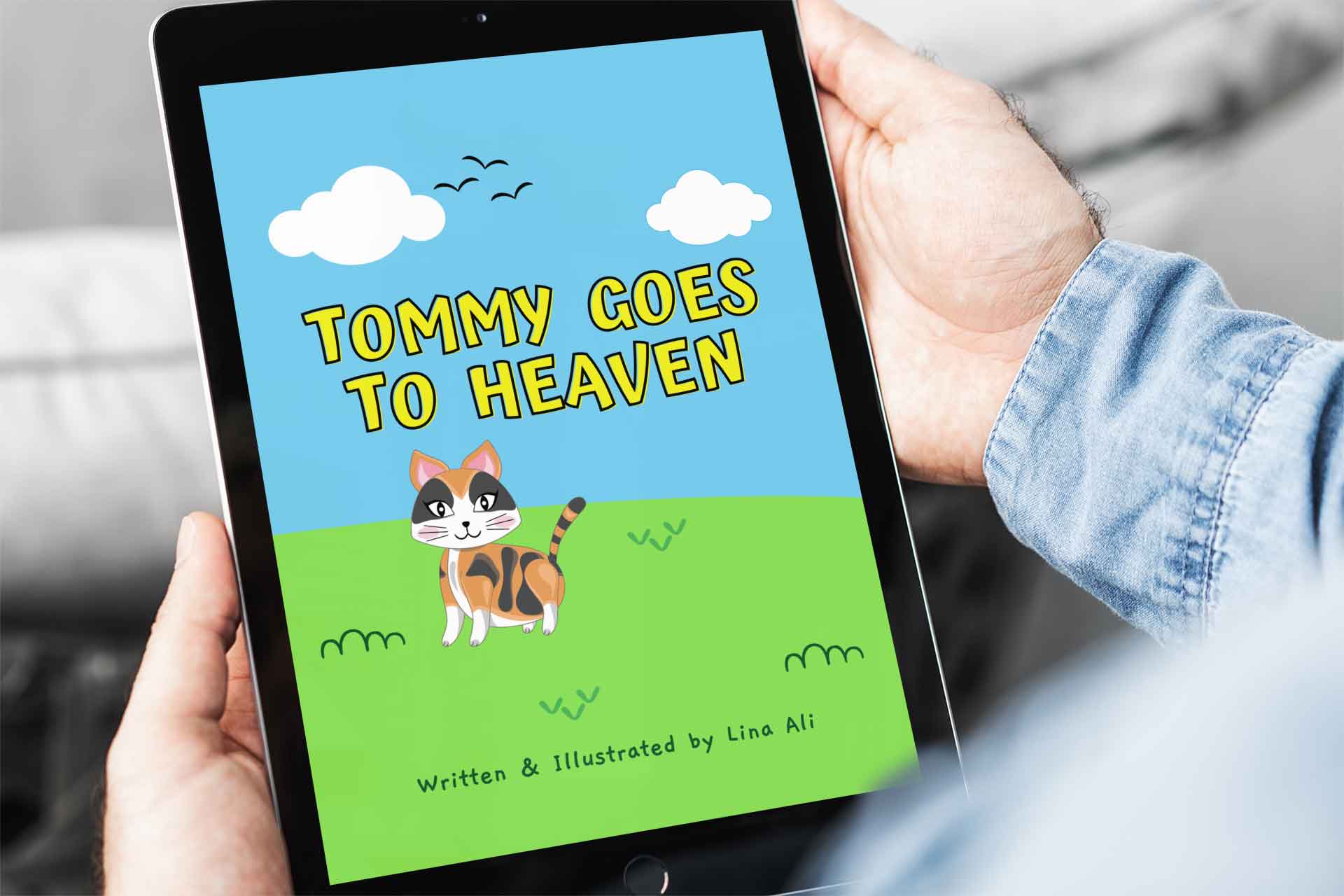 Lina Ali has launched her 1st children's illustration storybook called "Tommy Goes To Heaven". The launch helped raise funds for the 'Back To School' charity program, which is a collaborative project organized by Dato' Aliyah Karen of AKRAB.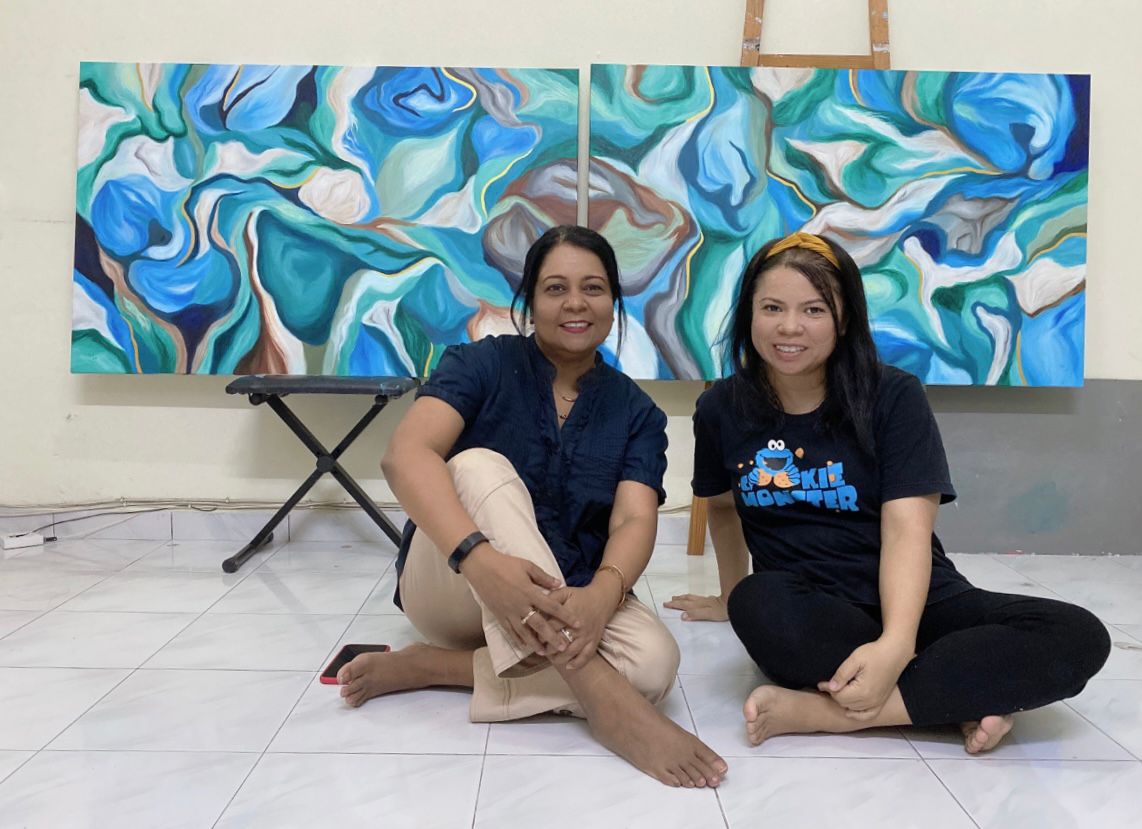 Photo of Dato' 'Aliyah Karen, Founder of AKRAB Resources and Yayasan Health On World (Y-HOW) with Lina Ali, and the paintings they worked together on called "Blue Illusions" and "Joy Swirls".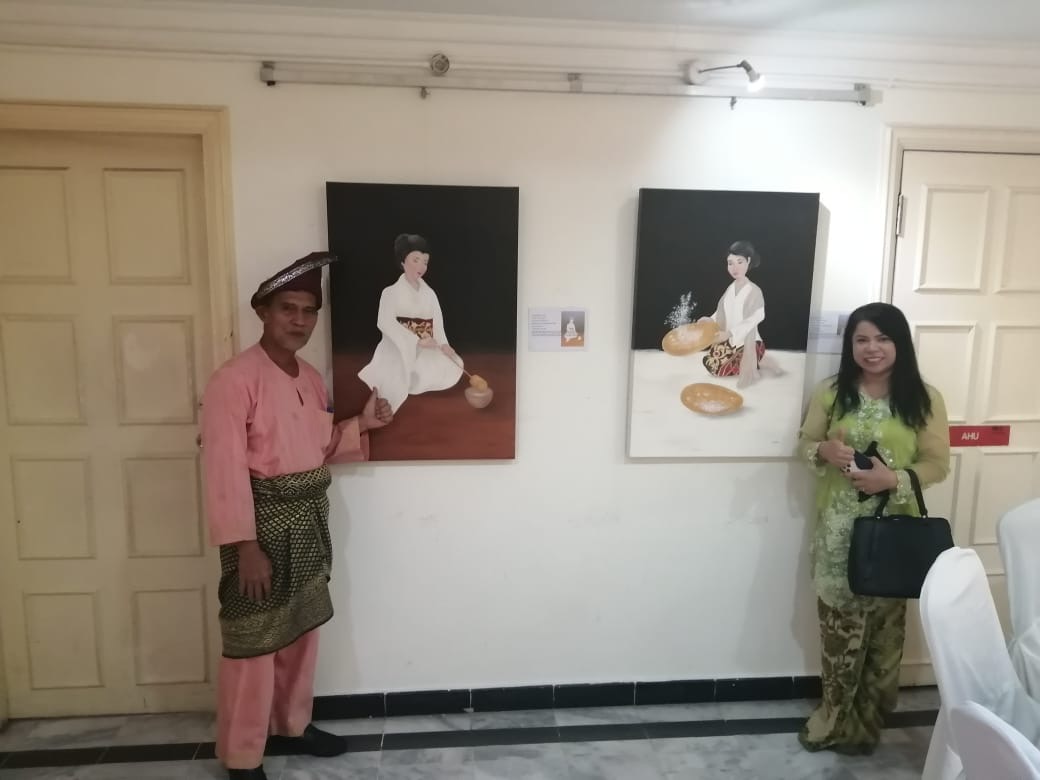 Photo of Dato' Haji Sahariman Hamdan, President of PAMAJA with Lina Ali, and her paintings at the Malaysia-Japan Festival 2022, at MATIC Kuala Lumpur.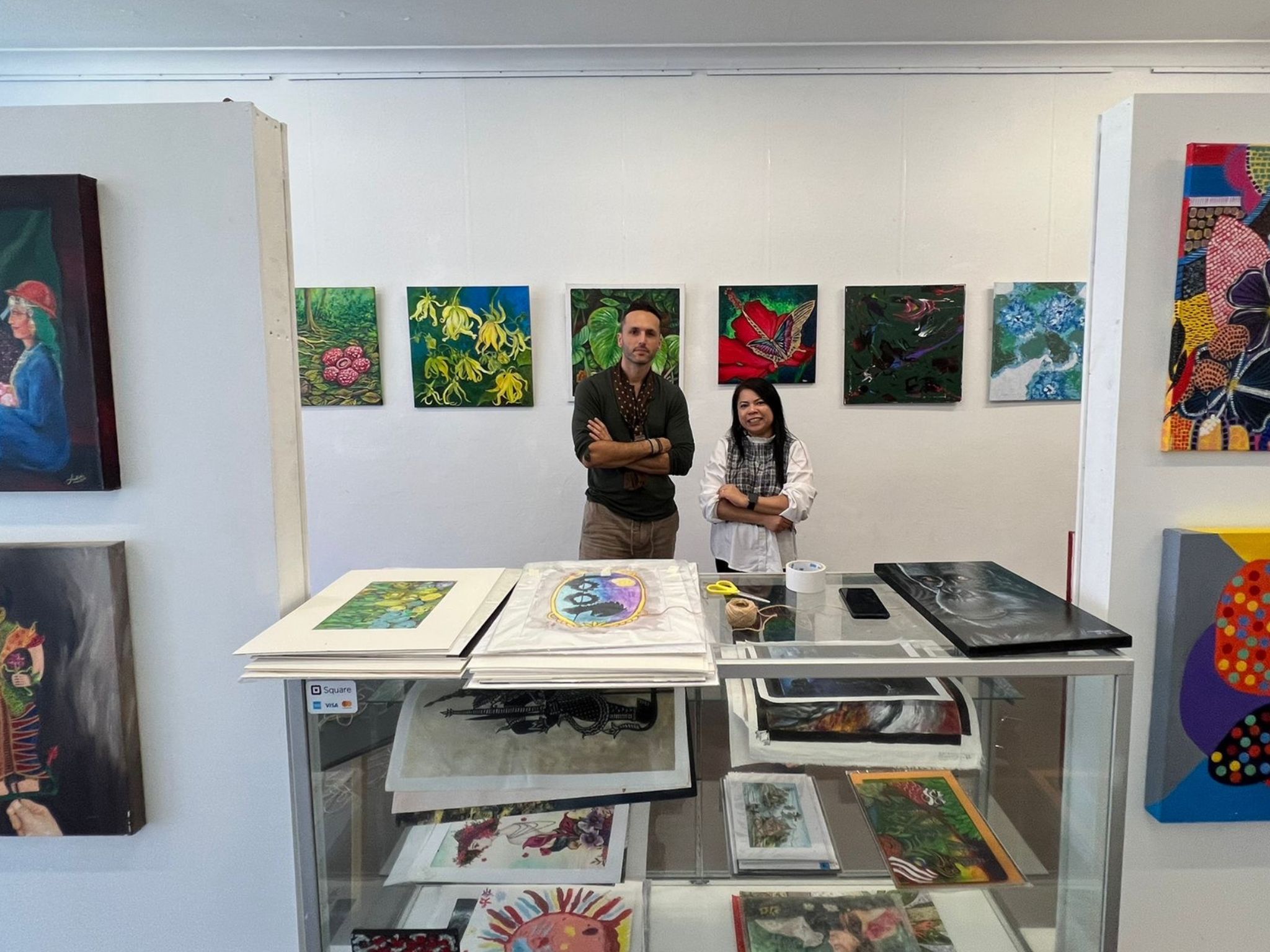 Photo of Tim Anastasi, owner of Luna Studio (Sydney) with Lina Ali, during the Asia Art Show Sydney, Australia 2023, where she exhibited, managed and curated the art exhibition.
The painting brought out the spirit of BEAUBELLE Swiss skincare in our Beaubelle Flagship Salon. Swiss Alpine Spring Water with its pristine, crystal, pure clear water from the Alps to the Beaubelle facility, and goes into every jar and bottle of Beaubelle skincare. Hence Lina was commissioned by Beaubelle to paint this beautiful masterpiece of Swiss Alpine Spring Water Streams to showcase the brand DNA. Thank you Lina. 🙏🙏❤️❤️

If anyone who is keen to bring to life anything in painting, I would highly recommend Lina Ali.
Lina is so reliable when it comes to product quality. I always trust that she'll deliver with full integrity and honesty!
Lina was one of my 100XDNA students and she was wonderful. Her determination and enthusiasm is apparent and contagious. She even sent me a beautiful painting of my pets as a token when she finished my program.

Lina is not just a student, but a lifelong friend of mine. Her skills, professionalism and kindness is a gem to find.
The death of a pet can create a sense of loss and grief which can psychologically impact people in various ways. Bereaved pet parents can be upset, angry, confused, shocked, sad and may also have to get used to re-adjusting their schedules without their pets. It is natural to feel loss especially as we see in this book that Tommy and Lily along with the other two cats have an amazing bond and cared for each other. Everybody grieves differently and Lily's dream was a beautiful depiction of how she processed her loss and understood that Tommy was in a beautiful place.
We have done a few TVCs for a few major brands where Lina was the project manager cum producer, and I was the composer. If you need someone who can get things rolling and bridge your voice to the right person, Lina is the person that you're looking for! Energetic, great communicator, and excellent problem solver.
Lina wears a big heart, beaming with a warm smile and always full of energy. She's very helpful in assisting others in the course we took together, true team player and shows a high degree of enthusiasm in everything she does, generates creative solution with attention to detail in all her work. She's extremely passionate when she talks about arts and that precisely, tells you how much she cares about her art work.