Remember when we were kids and we got so excited when someone bought us ice cream? Although we might not say anything, I doubt that our facial expression didn't somehow give it away.
Yes, as kids, we probably wouldn't think much about it because we were too busy enjoying ourselves.
Now you might think that when we're all grown up that we could 'hide' our excitement a little bit better.
Well, that's not what happened in my case.
Meeting YB Datuk Mas Ermieyati Samsudin for the first time
You see, I recently had the opportunity to create a painting for YB Datuk Mas Ermieyati Samsudin, the Deputy Minister of the Ministry of Entrepreneur Development and Cooperatives (MEDAC).
She's a wonderful person and she cares a lot about the work that she does, and about impacting people's lives too. I love listening to her views about women and business, and I truly admire her.
I believe not many people know this about her, but apart from her love for the work that she does, she's also passionate about arts too. That made our conversation even more fascinating, and I can personally say that she truly appreciates arts.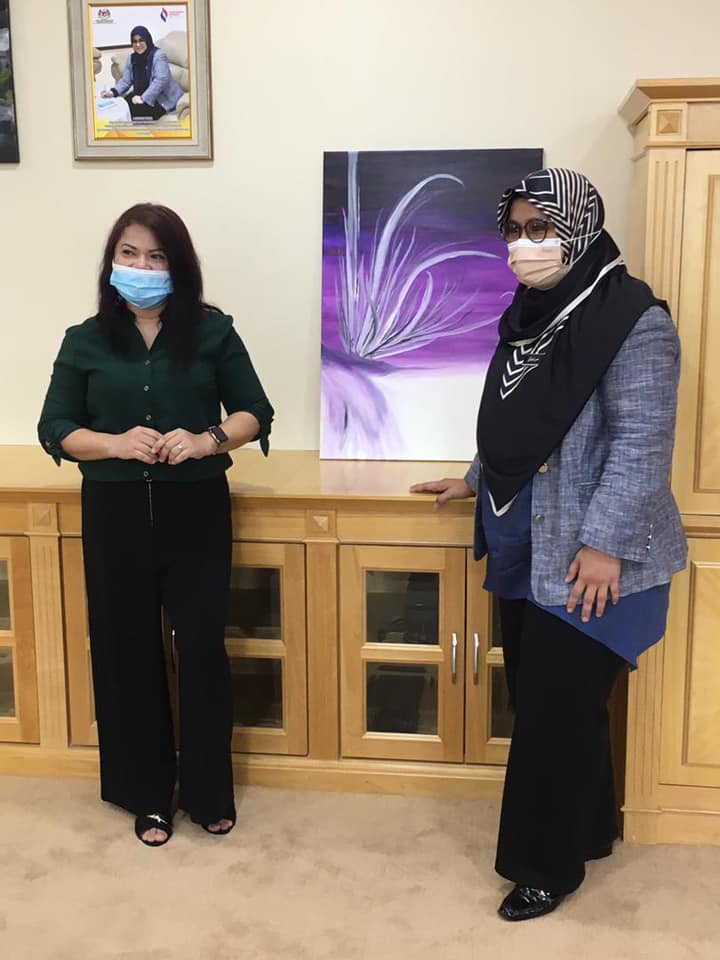 YB Datuk Mas Ermieyati with Lina Ali, and her painting "Graceful Strength"
And so, when she expressed what she felt when looking at the painting I made for her, the kid in me just came out somehow, and I really could not hide my excitement!
Like most artists, I've always been interested to discover what someone else sees and feels when looking at a piece of artwork. So obviously, I was keen to hear about mine too.
And let's just say, it touched my heart.
And luckily enough, I was able to control myself from jumping at that time.
What YB Datuk Mas Ermieyati has to say about the painting
So Glad My Friends Were There Too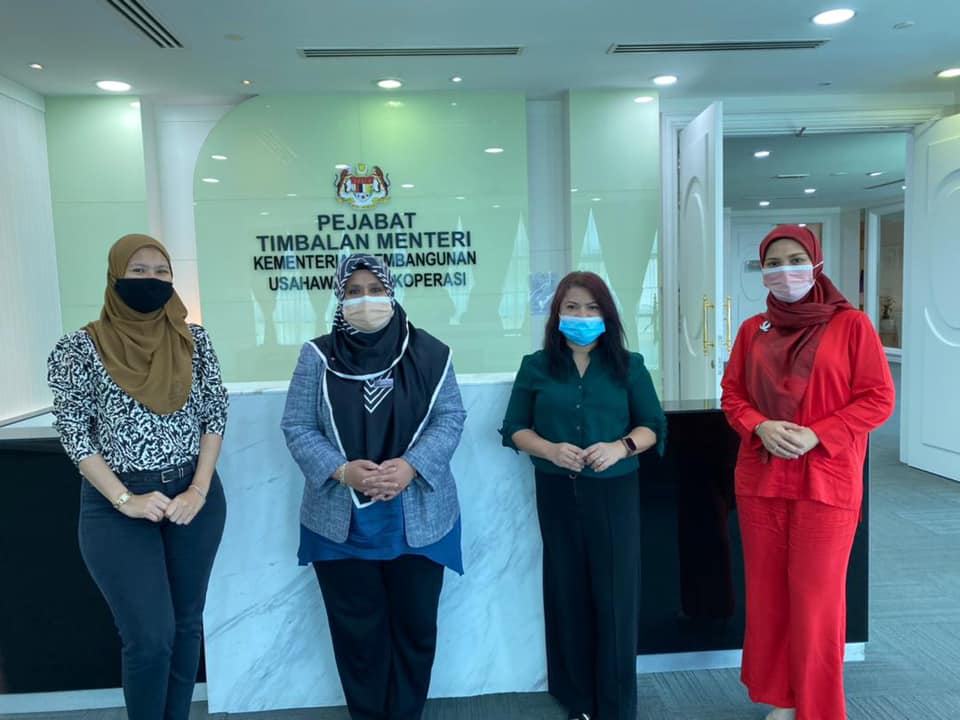 Photo taken at the Ministry of Entrepreneur Development and Cooperatives
Anyway, I was lucky enough to have my good friends, Zura Huzali and Jamie Othman there too. Jamie spontaneously somehow just got up and started recording the video when YB Datuk Mas Ermieyati started talking about the painting. And that's how the wonderful moment was captured on video.
I believe that when you start doing what you love most in your life, every day becomes exciting, and maybe some days are even more than others. And meeting YB Datuk Mas Ermieyati Samsudin for the first time was certainly very EXCITING for me!
NOTE: YB Datuk Mas Ermieyati Samsudin is currently the Deputy Minister in the Prime Minister's Department in charge of Parliament and Law (updated on August 2021)
"Drawing at its best is not what your eyes see but what our mind understands."
- Millard Sheets