I wrote a book called Tommy Goes To Heaven not too long ago. The book tells a story about a young girl's love for her pet cat and the pain she had to deal with when her pet Tommy died. The book also reveals at the end how the little girl managed to overcome her grief, and where she could learn to smile again.
Sure enough, I always thought that it would be cool to write a book someday, but I did not plan to write this story.
The inspiration to write this book came when my cat recently died. You can say that it was based on my own experience and there was a message that I wanted to share with the world, especially with children. It was a message of love.
I felt strongly about it and so I knew, I just had to write that book.
My cat Tommy had been sick for several days. I'm sure you know that pets are just like our family members or even children, and it's difficult to see them fall sick.
On Tommy's last night at the vet, I had a dream about her, or you can say that a vision appeared in my mind.
In my dream, I saw Tommy in this wide green field that looked like it had no end, and with bright blue skies above her.
It was a beautiful place and magical too. I could feel how peaceful it was, and that Tommy was really happy there.
I think I must have smiled when I saw this vision in my mind.
But all of a sudden, my 'conscious mind' said "I shouldn't be seeing this, I should be imagining Tommy coming back home instead!".
And so I tried to imagine that, that she was back home.
It was a real mental battle.
What I tried to imagine or picture in my mind seemed all gloomy and the colours of the green field and bright blue sky where I saw Tommy at, was overpowering it.
I felt really sad.
I didn't wake up feeling good the next morning.
And at 9.55 am, the vet called up and gave the news that I was dreading… that Tommy had died. Tommy was gone forever.
Although that was not the first time that one of my cats has died, it never got any easier.
I couldn't get it off my mind
For a while, the vision I saw in my dream kept lingering on my mind. It simply wouldn't go away. Somehow, I figured I should paint what I saw.
I remembered the vision looked like a watercolour painting. I didn't have any at home and so I bought some watercolour and started to paint.
I have to say that it was very challenging. And I got very emotional painting it…
As I was going through my emotions and experiencing that pain myself, a thought suddenly came into my mind. I suddenly thought about how painful it must be for other children when they lose their pets too. I know that children might not often express their feelings the way adults do. And it's certainly hard for adults to explain to children why their pets die and comfort them.
And I thought, "What if there was a way to help these children feel better"…
Then it just hit me that the best way that I could try to communicate with them was through a story.
Before I started writing, I decided that I wanted the book to be colourful, joyful, and to have the message of love spread throughout inside. And so, I can honestly say that the storyline and even the illustrations were created out of love.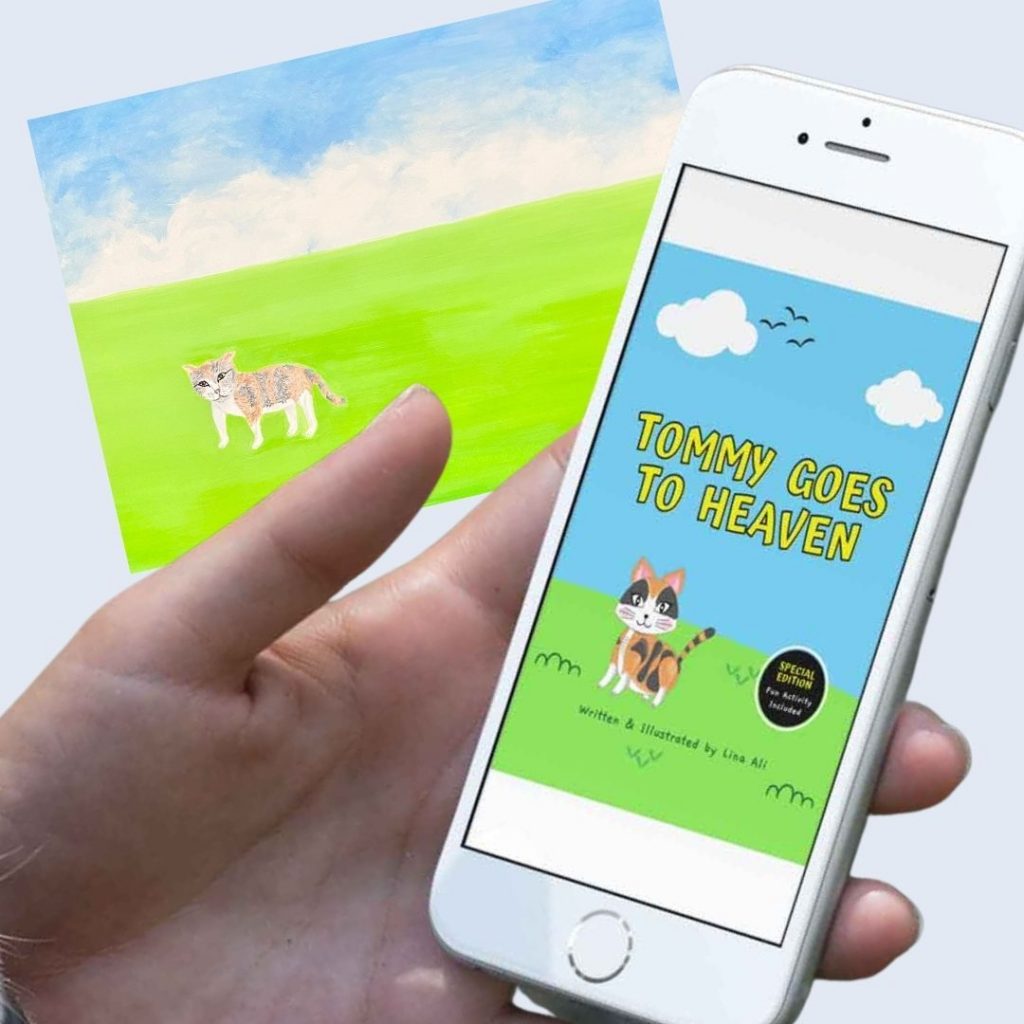 That was really how the inspiration for Tommy Goes To Heaven storybook came about.
To All Children With Love...
I remembered when I was writing the book, my husband said to me "Soon everyone will know Tommy and remember her name". We both still miss her a lot.
But I know that she's happy where she is right now, and it gives me comfort and joy knowing that. And so I hope this storybook will bring joy to all children reading it too.
"Those we love never truly leave us. There are things that death cannot touch."
- Jack Thorne